We strongly believe in the importance of integrating socially beneficial programs and practices into our business model and culture as a part of paying back to the local society, as well as attracting positive attention to certain issues and causes. To that end, we are proud to be involved with over 20 initiatives every year and we ensure that all Imdaad departments have CSR activity participation as one of their KPIs.
Our CSR strategy has been to focus on 4 key areas:
Environmentally sustainable and responsible behaviour is one of Imdaad's core values. This is woven into our business practices and supplemented by our Envirocare Month initiative, a drive towards motivating people to recycle materials that would otherwise end up in landfills. Morever, we are also delighted to participate in events such as DEWA's Earth Hour.
DEWA's successful Earth Hour initiative is one that Imdaad has embraced. We are participating in a walkathon to raise awareness, and are delighted to have brought some of our clients onboard as well.
We also run a series of sustainability workshops that focus on the communities within which we deliver our services. These have excellent results and are proven to increase participation in important activities such as recycling. Similarly, campaigns such as Clean up the World and targeted campaigns focused on cleaning up our beaches have also had successful outcomes.
Taking Care of Our Community
This is an area that we have chosen to focus on due to the importance of human capital within our company. We take our obligations as a responsible employer of over 6,000 people extremely seriously and we empower our staff to help those less fortunate.
Imdaad works closely with Red Crescent, giving employees an easy opportunity to donate clothes, personal effects and other items. We have activated this relationship through events and internal promotions.
Moreover, every Ramadan we sponsor a service that provides boxes of food staples to those in need.
Be'ati
Imdaad's commitment to environmental education is exemplified by our flagship CSR initiative Be'ati and its mascot, Khadour. Be'ati is an environmental program that we run at schools in conjunction with the KDHA, aimed at raising awareness about waste, waste-management, sustainability and recycling. It is combined with exploring how we can best preserve our planet, protect the environment and considering how all these initiatives positively impact the quality of life in the present and future.
Khadour himself has become a minor celebrity with many requests for him to return to the many schools he has visited!
Giving Our Time
Wherever possible, we offer our employees an opportunity to contribute to worthy causes by providing free services. We have found that this hands on approach is popular with our people as it allows them to see the fruits of their labour and interact with the people that it benefits.
Examples of these events are our visits to Rashid Centre for the Determined Ones and the FM and Environmental Services that we provide for Dubai Autism Centre, UAE Downs Syndrome Association and Cancer Centres.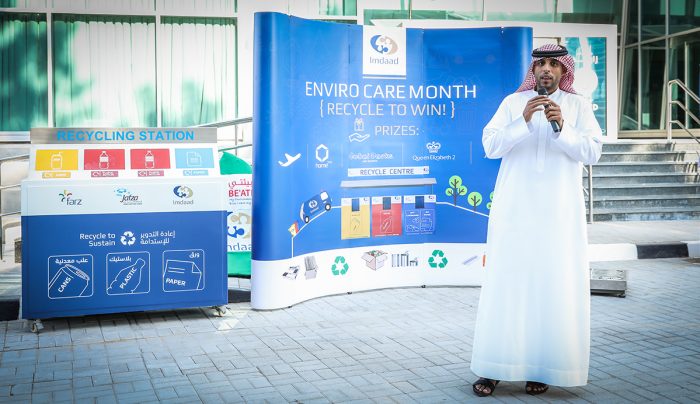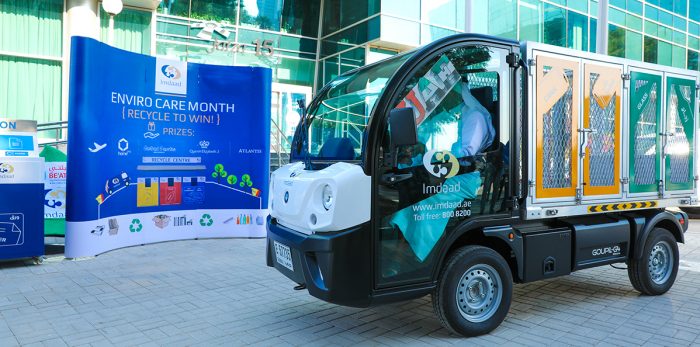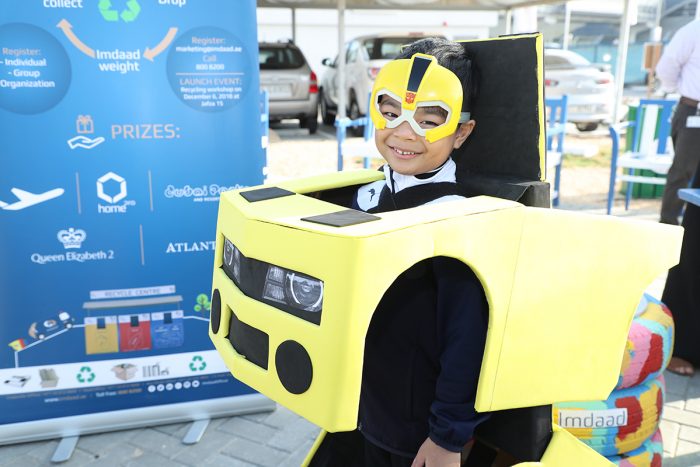 Beati Program (Schools)
Be'ati is an environmental education program, in collaboration with KHDA, designed for school children, and aimed at increasing awareness about waste, waste-management, sustainability and recycling, combined with efforts to preserve our planet, protect the environment and how all these initiatives positively impact the quality of life in present and future.
Details